Theme:blog
Everyone,
Good morning!
I'm really sorry...
that my new posts are coming so late
Yesterday, I was waiting with such anticipation (all like, 'Is he here yet? Is he here yet?') for him to come home...
when his car pulled into the parking lot!
I planned on lighting the candles right then, but I couldn't find the lighter............
While they were still.........unlit.........
there was a rattling of keys at the front door!
Without the light of the candles, the house was in total darkness...
Noa-tan was a bit cautious...
Well, at least
let's do the HAPPY BIRTHDAY song, I thought!
so I put on the CD............
and it started playing Christmas songs...............
What the...
I'd really done it now......
He was also, like, "...what's with the Christmas songs?"
(hehe)
as he burst in, but at that moment, SURPRISE!
He was *really* surprised~
I was so glad~~~
It seems he didn't read my blog, just like he promised
That's just how he is~
[note: her sentence-final particles here seem quite Osaka-ben-ish to me...XD]
And the dinner I worked so hard on...
TA-DA!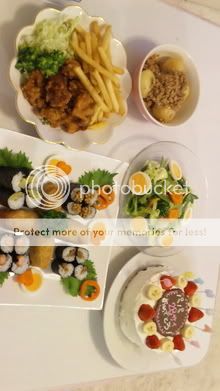 ...looked like this~
First was.........
Norimaki (sushi rolls, aka makizushi)
&
Oinari-san (that is, inarizushi, sushi rice in a pouch of deep-fried toufu)
and...
Karaage (deep-fried meat, usually chicken)
&
French fries
and...
Jagaimo no soboro ankake (potatoes in a thick ground chicken sauce)
and, and...
Green salad with tons of veggies, topped with a sesame dressing
And the finale was, of course, this~
Birthday cake
He was really surprised by this one
And he seemed to enjoy the food even more than usual
My hard work making it really paid off
At first I wasn't sure how it would turn out, but this is what you'd call
a success
...
No...a *huge* success~
This year is the third time I've been able to say "Happy Birthday" to him...
It makes me so happy
I hope we can continue to build many wonderful memories together
Together for always, always, alllllll
ways~...
Honey,
[note: she actually calls him 'Papa']
I know it's a bit early, but...
Happy
28th
Birthday~
I hope you have a wonderful year...